How to Choose a Floor Plan for Your New Construction Home
One of the biggest decisions you'll have to make when buying any new construction home is your choice of floor plan. Most builders have dozens of floor plans from which to choose, making it even more confusing to decide!
Matching those plans to the specific requirements on your own dream home's "wish list" – such as the number of bedrooms and bathrooms you need or your preferred layout for your kitchen or living spaces – can feel a bit like looking for a needle in a haystack. Considering the layout you pick is one you'll have to live with for a while, how can you be sure you're choosing the best option?
Lowder New Homes has a range of floor plan options for our new construction homes in several towns in the Montgomery and Central Alabama area. We recognize what's at stake for buyers when choosing a new house layout, so here are some tips for finding the perfect floor plan just for you.
What to Know About Lowder's Floor Plans
Lowder New Homes is a preferred builder in select neighborhoods in and around Montgomery (and Central Alabama. Our buyers get to choose their new home floor plan when building on an empty lot or buying a home that's under construction in one of our neighborhoods.
Before picking one of our new home layouts, here's what you need to know:
We currently build in specific neighborhoods in Montgomery, Pike Road, Prattville, Millbrook, Auburn, and Opelika. You can view these neighborhoods listed in the drop-down menus under the "Neighborhoods" tab shown in the main navigation header.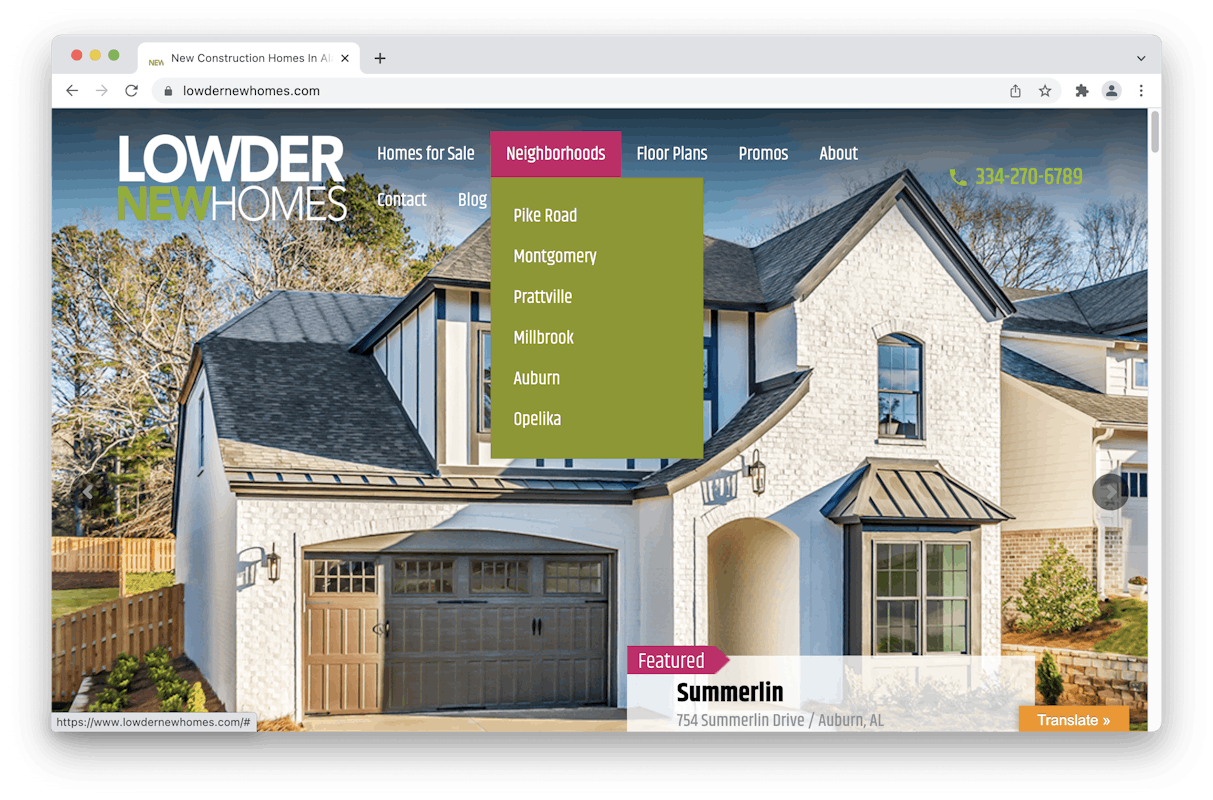 Each neighborhood has a selection of floor plans specific to that community. For example, the Sturbridge neighborhood in East Montgomery has close to 20 floor plans to browse through and choose from.
Certain floorplans are available only in specific neighborhoods. This is to ensure your home matches the neighborhood's building standards and aesthetics. An example is the Charlotte Floor Plan, which is only available in the Summerlin neighborhood in Auburn and complements the other homes' elevations.
Floor plans have various customization options to allow you to make adjustments to suit your preferences.
With the above points in mind, the easiest way to narrow your search for the right Lowder New Homes' floor plan is to decide which town you want to live in, followed by your Lowder new construction neighborhood of choice (or vice versa).
From there, you can more easily select from floor plans available in the neighborhood and even customize specific options to suit your needs.
6 Tips for Choosing the Right Floor Plan
Listed below are some questions worth asking yourself as you consider the different floor plans available in each Lowder neighborhood.
1. What size home do you want?
The size of your house is a major determining factor when selecting a floor plan. Certain properties can only accommodate homes of a specific size, so your lot choice will naturally help narrow down the range of possible floor plans.
For example, Sturbridge in East Montgomery has floor plans listed from 2478 sq. ft to 4095 sq. ft to accommodate different lot sizes and locations.
2. How many bedrooms and bathrooms do you need?
Another big decision to make when choosing a floor plan is how many bedrooms or bathrooms you want in your new home. This could be based on:
The size of your family
Whether you need "growing room" – for additional children, aging parents, etc.
How frequently you entertain and host guests or extended family overnight
A work-from-home setup that requires an extra bedroom and bathroom for a home office
In most neighborhoods, Lowder offers a variety of floor plans with several bedrooms/bathroom combinations to accommodate small to large families. For example, Sturbridge floor plans range from three to six bedrooms and two-and-a-half to four-and-a-half bathrooms, depending on the choice of floor plan.
3. Do you prefer a one-story or two-story home?
Each Lowder neighborhood offers a choice between one or two-story plan options. Camelot in Opelika, Woodland Creek in Pike Road, and Sturbridge in Montgomery all offer the Sweetwater floor plan, a five-bedroom and three-bathroom plan offering an upstairs bedroom and bathroom, and living room space.
Great one-story plans include the Madison and Trenton in New Park, Montgomery, both with a choice of three building facade design options to suit your aesthetic.
4. Do you prefer a traditional or open concept layout?
You may like the cozy ambiance that separated living areas can bring, or you might prefer an uninterrupted flow of space between the kitchen, entertainment areas, and outdoor patios, allowing for more natural light and the appearance of larger room spaces.
For an excellent example of a popular open concept home design, look at the Sullivan Plan in Sturbridge, Summerlin, and Camelot, or the Oxford Floor Plan offered in both the Summerlin and Sturbridge neighborhoods.
5. How much garage space do you need?
Garage size is a consideration many homeowners overlook. You naturally want your garage to accommodate a certain number of cars, but will you need an oversized garage for additional storage? Will you use part of your garage as a workshop? If you need a more spacious garage, many plans, including the Redwood, Oxford and Bridgewater offer space for at least three vehicles (either as a single 3-car garage or as separate 2-car and 1-car garages). Other Lowder floor plans provide different-sized two-car garages.
6. Do you prefer a particular design style or elevation?
A home's elevation incorporates the overall design and structure of the building's exterior (i.e., the front, side, or rear), not just how it looks from the street. It includes everything from the size and shape of the windows and doors to where the garage sits in proportion to the rest of the building and the materials used for the facade (e.g., siding, brick, stone). Elevation also encompasses specific architectural styles, such as a more traditional exterior versus a craftsman or farmhouse-style look.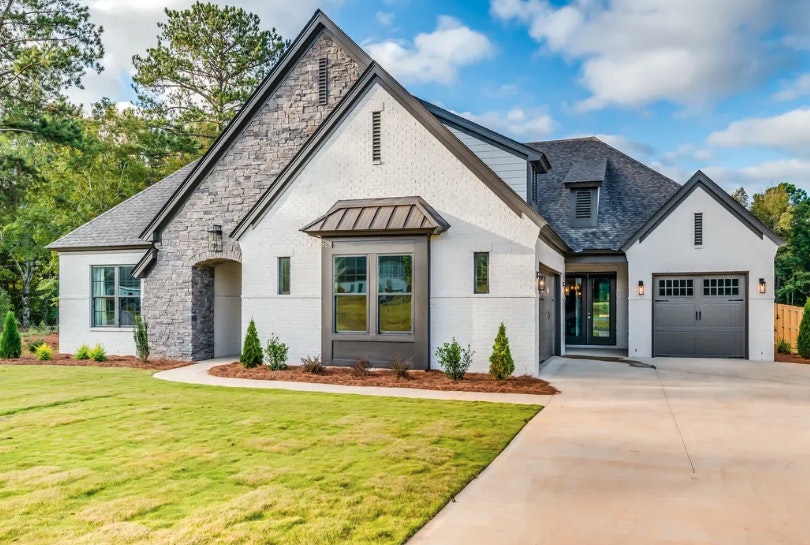 The available elevations in each neighborhood often depend on that neighborhood's covenants and building standards. You can typically adjust floor plans within each Lowder neighborhood, but the exterior must comply with the architectural requirements for that community.
A Quick Note About Floor Plan Modifications
One of the most common questions we receive from buyers is, "Can I modify my floor plans?" The answer is, "Certainly!"
The homes we build are customizable to your specific needs, preferences, and tastes. We can easily price out small modifications or additions to a floor plan, while minor footprint adjustments may be made for a modest redraw fee. With this option available, even if you don't find a floor plan that perfectly matches your wish list, we can easily adjust an existing one to suit you.
Find Your New Floor Plan Today
For your convenience, Lowder New Homes provides an easy-access database for our collection of floor plans, which is searchable by neighborhood and square footage, as well as by the number of available bedrooms and bathrooms. Our handy floor layout search also confirms which plans are available in which neighborhood.
Browse our floor plan collection today to find the perfect layout for your new construction home.
For help deciding, feel free to call Lowder New Homes at 334-270-6789 or contact a Lowder Building Representative with your questions.