How to Style Your Open-Plan Kitchen
Open-plan kitchens are more than just a trend; they represent a shifting of priorities for the modern family. Open kitchens acknowledge that the kitchen has become the central gathering place for most families, making entertaining guests and family time a breeze. A well-designed kitchen-living space will combine functional features with abundant natural light and space so friends and family can gather comfortably around great food and conversation.
This blog looks at some key interior design features and trends to keep in mind when styling your open-plan kitchen.
Top Considerations for Open-Plan Kitchen Designs
A good open-plan kitchen is more than just an absence of walls. In fact, your design needs to be thoughtful and purposeful because you're effectively combining multiple uses (i.e., cooking, eating, entertaining) into one space. Here are a few top considerations to keep in mind:
Layout Is Everything
A good open-plan kitchen will have a natural flow to it. The layout should be designed so people can move quickly from the prep areas to the dining area to the living room without running into each other, countertops, or appliances. One of the best ways to accomplish this is to establish "zones" for cooking, eating, and lounging, then design pathways to navigate easily between the zones. For an added touch of style, talk to your interior designer about using complementary color schemes and design features to delineate the different spaces.
Lighting Is Key
No one wants to cook or eat in a dark, pokey, cave-like space, no matter how "open" it is. That's why good lighting is critical in an open-plan kitchen. Natural light is always best, so opt for an abundance of windows wherever possible – as large as the space will allow.
For evening meals around the kitchen, you can also create lighting "zones," combining plenty of ambient overhead lighting with task lighting in work areas and eating spaces to create a warm, welcoming environment.
Storage Is a Must
If you're going to be entertaining from your open-plan kitchen, you'll need places to stash all those serving platters, additional table settings, and overflow from your pantry. A well-designed kitchen will maximize the use of space with plenty of storage options, including cabinets, pantries, and even hidden storage areas. And since your kitchen is doubling as a hospitality space, don't cut corners with cheap-looking cabinetry. A good homebuilder will offer you cabinetry options that are highly attractive and still within your budget.
Seating Should Be Versatile
Your open-plan kitchen will likely be a gathering spot for family and friends, so it's essential to have plenty of seating options. Of course, a dining table is a must, but you may also want to include bar stools for island seating, a breakfast nook for more casual dining, and possibly even a comfortable sofa or sectional for relaxing. Not every gathering or group will be the same, so try to allow for flexibility with various seating options that can be reconfigured as and when needed.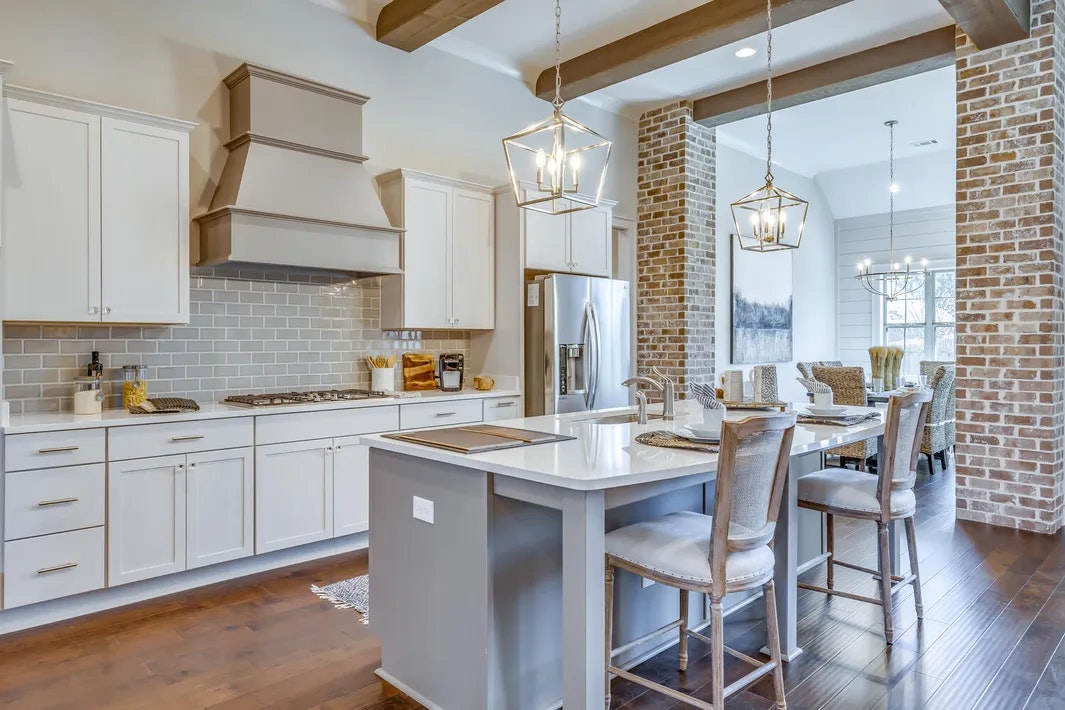 2022 Kitchen Design Trends
Many of the current open-plan kitchen trends from designers in 2022 seem to respond to the recent global pandemic keeping people home more and families using their kitchens more. Either way, the trends are revitalizing the way kitchen spaces look and feel. If you need some inspiration, consider some of the following:
1. Incorporating More Pops of Color
It's safe to say the days of white-on-white-kitchens are no longer "in." These days, home buyers readily incorporate colors that catch and inspire the eye. Some ways you might accomplish this include:
Including more color in tile backsplashes
Using accent walls for a splash of color
Choosing complementary cabinet colors (e.g., colored cabinets below, white cabinets above –or complementary shades of color on different sides of the kitchen, instead of all white or all one color tone)
2. Blending Metals and Textures
It's no longer a hard-and-fast rule to choose all one type of metal in lighting, hardware, or plumbing fixtures. For example, a tasteful combination of brass, nickel, and dark metals can add richness and visual interest to your kitchen. Neither is it a rule to have the same countertops throughout. Offsetting your kitchen island with a dark marble countertop can easily complement lighter countertops around the rest of the kitchen. (So can a well-treated wood island countertop.)
3. Hiding Appliances
Another trend is to allow appliances to "disappear" into the background of your kitchen. You can achieve this in several ways, including:
Concealing appliances behind panels that match the rest of the cabinetry
Enclosing small appliances in cabinets or drawers (drawer-mounted microwaves are very popular right now, for example)
Choosing appliances in colors that complement or match the surrounding cabinets
Bonus tip: You can also go in the opposite direction, allowing your appliances to stand out by bringing that "pop" of color we discussed earlier. Many manufacturers are offering appliances in new, attractive bold colors that may add just the touch of brilliance you're looking for in your kitchen.
Lowder New Homes Open-Plan Kitchens
Lowder New Homes provides new home buyers a blank canvas on which to express their own design style throughout the house, including open-plan kitchen designs. We offer a highly versatile palette of kitchen features from which to choose, including, but not limited to:
Mohawk® and Anderson® hardwood flooring
A choice between quartz or granite countertops
Solid wood cabinetry – multiple styles, finishes, and designer pulls/knobs
Ceramic tile flooring is available
Build Your Dream House with Lowder New Homes
If you're in the market for a new home in central Alabama, buying a new construction home allows you a full range of design options so you can style your open-plan kitchen just the way you want it. Our experienced home builders and design team can help you customize any of our many floor plans to suit your needs perfectly.
Lowder New Homes aims to build exceptionally beautiful, high-quality homes made to stand the test of time. We boast decades of local experience; we only build in the best neighborhoods; we provide a wide variety of floorplans and customization options and offer competitive incentives.
Contact us today to help you build your dream home.